This is the Ultimate Guide to Apartment Marketing Ideas in 2021.
Yes, I'll cover some of the better-known apartment marketing ideas like Google Ads, but you'll also see new strategies like the 9-word email, recycling reviews and more. So if you're looking to improve your Apartment Marketing in 2021, you'll love this new guide.
Here's a quick breakdown of some of the Apartment Marketing Ideas you'll discover:
Optimizing Your Google My Business Listing

Testing Facebook's Marketplace

Geotargeting with Google Ads

Creating a Five Star Phone Experience

Use the 9 Word Email for Cold Prospects

Content Marketing for Your Community

Recycling Resident Reviews

Use an Email Script for Getting Reviews

Creating a Resident Touchpoint Plan

Running Facebook and Instagram Ads
Let's get started…
#1 Photos Should Be Your Priority (You Already Know This Right?)
Of all the apartment marketing ideas that I've ever given, this still remains my #1 for 2020. There is really no better investment you can make than good photography. Hire an apartment photographer who knows exactly what to shoot, where to shoot, and how to get the best shots to sell your apartments. People are visual by nature – they need to see what your apartments look like before even considering living there.
Your photography will be used on your website, outdoor banners, and every other marketing piece you put out there. Make sure they are well-staged, clear, and showcase the very best of your community.
Make sure to create a shot list in advance and consider having the photographer shoot interesting neighborhood landmarks. Here are some recommendations for a shot list:
4-5 exteriors (building, community)
2-3 scenic/panoramic images
3-4 creative shots
8-10 interior shots (bedrooms, bathrooms, kitchens, living rooms, closets, patios)
All amenities
Unit – state-of-the-art appliances, including dishwasher, washer/dryer, any cool technology, wood floors, etc., highlighting anything that makes your property unique
Community – lounge, game room, office, gym, pool, fire pits, barbeque, etc.
In addition, when you get your shots back from the photographer don't be afraid to ask for touch-ups if needed. This is especially true if all of your photos have gray skies.
Request both print and web versions of the photos, and put them in a Dropbox or Google Drive folder, so you can share a link easily. For more tips on getting the best shots, check out our post on apartment photography.
#2 Great Copy Works Hand-in-Hand With Your Photography
The copy is just as important to your apartment brand as photography – both work together to communicate your message. Hire a copywriter to write catchy headlines, provocative descriptions, enticing calls to action, and to capture the overall personality of your community.
We cannot stress enough how important it is that your copy is error-free. You can have super clever wording, but if there are grammar or spelling mistakes, you will devalue your entire brand. Copywriters can also proofread your website content and marketing materials, to maintain the integrity of your community.
It takes a skilled copywriter to market your apartment community to get the results you're after.  Here are a few resources to help:
Grammarly – This handy Google Chrome Extension will check your copy for errors
ContentWriters.com – This site finds copywriters for you.
#3 Keep That Brand Consistent (If You Want To Stay Top Of Mind)
The key to brand recognition is consistency. You want people to be able to see your ads or signage from miles away and know and remember your community.
Keep all your colors, fonts, photography, shapes, and logo the same across all your apartment marketing efforts, have a community name that fits your community's "personality," and keep your tone of voice consistent. Learn more about apartment branding, so you can get yours just right.
#4 Upgrade Your Apartment Logo (It May Need It)
Your logo should be an easily recognizable symbol of your community. Make sure it's clean and simple, and that people understand a little about your community at first glance.
Include your logo on every single marketing piece you develop, including business cards, signage, your website, and more. Read more about creating the perfect logo for your apartments.
Pro Tip: When creating a new logo, keep in mind the shape. If it's an odd shape (too tall or too wide) you'll have a hard time fitting it on your marketing material.
#5 Have a Call To Action (On All Your Marketing)
If you're wondering what a call to action is, you might be missing one of the most important components of your marketing efforts. So, you communicate what an amazing community you have…then what?
What do you want your prospect to DO?
This is your call to action. It should be something like, "Schedule a Tour," "Apply Now," or "Check Availability" along with a web address, phone number, email address, or other contact information.
Make sure that every one of your marketing pieces, web pages, ILS listings, and even Facebook page and Craigslist ads have a call to action.
Need some help coming up with the perfect call to action? Check out 63 Call To Action Keywords For Apartment Advertising and 167 Words To Spice Up Your Apartment Marketing.
#6 Focus on Your Apartment Website (Small Changes Yield Big Results)
Literally the most important part of your marketing, your website must be informative, easy to navigate, fast, and attractive. As we mentioned above, photography and copy are incredibly important to your website. You also want to make sure you have a responsive design – meaning your site looks good on any device – tablet, laptop, mobile, etc.
The page that will likely get the most traffic on your website is the Floor Plans page – so make sure that it looks good, loads properly, and has all the information prospects need, along with calls to action with a link under each plan.
Remember all your other apartment marketing pieces will drive people to your website – so make sure it's a perfect reflection of your community.
You also want to make sure that your website is optimized – so it ranks higher in Google search results. Which brings us to our next point…
#7 When People Search for Your Community, Make Sure They Find It
If someone drives or walks by your community, and later wants to learn more about it, he or she is likely to do a Google search. Is your community showing up first? If not, here's what you can do:
Review your on-page SEO. Here's a quick crash course on SEO if you need a refresher.
By adding your community name + local area to the title tag, meta description, and throughout your home page content, this in most cases will be enough to get your community ranked. If someone doesn't know your community name, you also want to rank by inserting keywords, like "apartments + location" throughout your content as well.
If you need more help, check out our Apartment SEO Services.
#8 Don't Forget to Claim & Optimize Your Google My Business Listing
When someone does a Google search for your business, your Google My Business listing will appear to the right-hand side of the page. You want to make sure you "claim" your listing, meaning you include all pertinent information that someone would want to see, including phone number, email, web address with links, reviews, photos, community description, special offers, and anything else that would entice someone to navigate to your website.
Learn more about claiming your Google My Business listing and check out these Google My Business examples for post inspiration.
#9 Drive More Apartment Leads with Craigslist
Craigslist is unique in that you have to essentially get your prospect to click on your ad based off one line of text. Make your description as detailed and enticing as possible. Another trick is to include symbols in your ad title (you can simply copy and paste the symbol from Word).
Pro Tip: Adding a keyword box to the bottom of your Craigslist ads will help you appear in more searches. Just think about what words people might be typing in to find your property and add those to your box.
#10 Test Facebook Marketplace for Property Rentals
Facebook Marketplace is an untapped lead resource for luxury apartment marketing. Start using it before your competition does. Very much like Craigslist, the posting process is easy. Remember, great ad titles, good copy, and quality photos will deliver more leads.
Want more detailed instructions on using the Facebook Marketplace for marketing your apartment complex?
Here's a good article: Generate Leads Right Now With Facebook's Marketplace.
#11 Get More Leads for Less Money with Facebook Paid Ads
Facebook Paid Ads is a good way to generate massive impressions for your community at a low cost. Invest in boosting posts and test multiple ad types to find the winners.
Here's a resource that can help you improve your ads.
The Facebook Ad Library was made available some time ago, yet not many people know about it.  The Ad Library will show you ads that are running from any multifamily company on Facebook.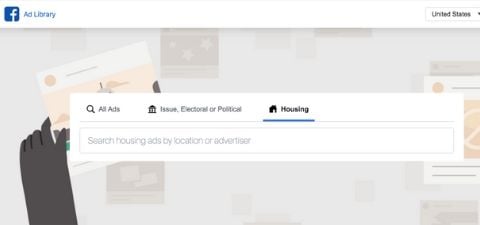 For example, searching competitor apartment community names and even keywords like "apartments in your area" can show you the current ads that are running.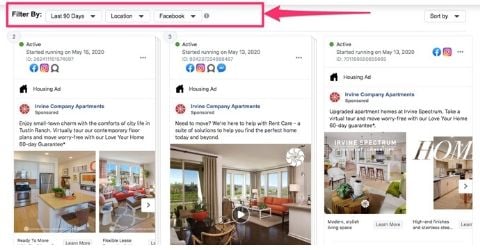 I've found the Ad Library to be beneficial for:
Giving you insight into competitors
Giving you insights into ads that are working well
Giving you ideas, inspiration & guidance for your own ads
For example, if you see ads labeled "Active" and the "Started running date" is more than three months old – there's a good chance those ads are generating traffic & conversions for that property.
If you want to check out the Ad Library just click here.
#12 Stay Active on Social Media
If you aren't using social media, you could be missing a huge opportunity. Social media is an excellent way to engage with your audience and add a little more personality to your brand. To start, sign up for Instagram, Twitter, and LinkedIn and post a few times a week.
 You can stay active by giving community updates, sharing resident or staff profiles, running contests, posting event information, and more. People love seeing funny videos or behind-the-scenes action shots. Even just a simple, "happy Friday" post generates interest.
The more shares, likes, and comments you get, the more word will spread about your community. So, offer incentives for engagement – for example, "like this post for a chance to win a gift card to the pizza place."
#13 Get Posting on Pinterest
People go onto Pinterest for inspiration –, especially for their homes. This is a perfect platform to post gorgeous shots of the interior and exterior of your apartments. You can then link all your photos back to your website. According to Hootsuite, more than half of users make a purchase based on something they saw on Pinterest.
If you have a blog, you could also create pins that link to that content as well. Be sure to use keywords in your pin descriptions, and any time you post a nice image somewhere else, make sure people can pin it onto their boards. With over 250 million users, Pinterest is a great place for luxury apartment marketing.
#14 Follow Your Competition on Social Media
It's important to always be aware of what your competition is doing and social media is a great place to keep dibs on other communities. By following other apartments on social media, you can see what their audiences are responding to, and replicate that content for your community.
For example, if a neighboring community is offering a move-in special, you'll want to create some sort of special that is equal to or better than theirs.
#15 Let Residents "Take Over" Your Social Media
Word of mouth (or post) is still an incredible way to gain new leads. Offer for a resident, ideally with a lot of followers, to "take over" your social media accounts for one day.
He or she can post typical "day in the life" content around your community. For example, how he or she uses the amenities, like the pool or dog park, or, perhaps how he or she decorated his or her apartment.
#16 Include a City Guide on Your Website
Have a section of your website dedicated to hot happenings around town, complete with event descriptions, dates/times, and venue details. If this is done well and kept up to date, you better believe it will bring traffic to your site from not just residents but prospects as well.
#17 Use Google Ads for Unlimited Traffic
Google Ads (formally AdWords) continues to be a powerhouse for delivering quick, quality traffic to community websites, as it allows you to pay for ad space at the top of Google search results.
You essentially only pay for the ad when it's clicked on by users and drives traffic to your site. If you find that you aren't ranking organically, it's a good idea to pay for that top spot.
Spend more when you need more traffic and spend less when you don't. Great for lease-ups.
Google Ads is constantly changing, if you find yourself needing help, check out our Apartment Google Ads Service.
#18 Use Google Ads for Retargeting
Ever notice that when you look at a web page once, ads for whatever you were looking at will "follow you" around on other sites you visit too? This is retargeting and is an excellent way to stay in people's minds even as they navigate away from your page.
#19 Use Google Ads for Geotargeting
Geotargeting through Google Ads works extremely well. Imagine drawing a one-mile radius around your community and serving up ads to all the people in that area. Clicks can be ridiculously cheap at less than 15 cents.
#20 Make Chatbots Available When Your Agents Aren't 
Chatbots are becoming popular as a way of automating conversation on apartment websites. They work extremely well at providing website visitors with any information they may be needing without human intervention.
When a user visits your site, a small robotic chat window will appear ready to assist users in finding something on your site or answering questions. This is great for when your leasing office is closed or your agents are busy. Learn everything you need to know about chatbots.
#21 Create a Five-Star Phone Experience
People have generally poor experiences calling customer service lines – representatives can be moody, unknowledgeable, or even just unavailable. This isn't to say the same for your community, but it's super important to stay on top of how your agents are treating residents and prospects over the phone.
Place a few test calls monthly to your community and grade your experience. You will quickly be able to identify areas for improvement or feel satisfied with your agents' abilities. Check for their tone of voice, knowledge about the property, rent, floor plans, etc., and how they "sell" your property or try to get prospects in for a tour.
You could also place some test calls to competing communities to assess and learn from them.
#22 Hand Write Thank-You Letters
Handwritten thank you letters have become somewhat of a lost art form. Think about sending a thank you letter to every hot prospect that tours your community. Also, send a thank you and welcome letter after a new resident moves in. Hand-written letters sent via mail are more likely to get opened too, as people will know it's not typical junk mail.
Looking for more apartment marketing ideas like this? You may want to check out:
How To Properly Follow Up With A Prospect That Just Toured Your Community
#23 Extend Your Leasing Hours
Consider extending your leasing hours to about 8 p.m. While competitors are typically only open during the day, most people would pop in for a tour on their way home from work or after dinner. Take advantage of this and advertise your longer hours – especially in the summer months when it gets dark later.
#24 Use the Nine-Word Email
The nine-word email should be used for reactivating cold prospects. You want to make sure it's super short and to the point, hence only being nine words. The goal is to remind prospects about your community, without being salesy or pushing, and try to generate renewed interest.
It could be as simple as: Hey, wondering if you're still interested in our studios. If yes, click here.
Pro Tip: Using the word, "hey" in the subject line works well in getting people to open the email.
#25 Get Creative with Resident Events
Waffle bar, bagel bar, nacho bar, ice cream bar, doughnut bar…believe me, if you host it, they will come. Get creative and show your residents a good time. They'll be able to mingle with neighbors, get to know the staff, and enjoy some treats. They may even bring a friend who is looking for an apartment, or post to their social media accounts to spread the word.
Another idea is to host a community garage sale. You could designate the parking lot space to hold the sale, and invite residents to participate. This will generate a lot of foot traffic to your community.
You could also allow local businesses to hold events at your community…which brings us to our next point.
#26 Partner with Local Businesses
Stay active in your community. Go to the local cleaners, restaurants, moving truck company, and more and form partnerships. When someone signs a lease, you can give them a welcome package with coupons to each of the locations, or a guide to the city with your recommendations. In turn, those businesses will do the same for your community with their customers.
#27 Get Creative with Move-In Gifts
Are you sending a move-in gift to new residents? In addition to the coupons we mentioned above, give a little welcome gift. Some examples could be a house plant, doormat, removable hooks (perfect to avoid nail holes), or maybe a gift card for a food delivery service.
#28 Create Fun Resident Renewal Reminders
Residents always need to be reminded when their lease renewal is coming up. Get creative with your renewal reminders.
For example, you could give a donut in a box with a note that says, "Donut forget to renew your lease by January 1."
Or, give residents a tin of popcorn and a note that says, "Pop into the leasing office to renew your lease by January 1." Check Pinterest for more fun ideas.
#29 Create a Resident Retention TouchPoint Plan
Create a 12-month resident touchpoint plan to learn what makes your residents happy or not and whether they are satisfied living there. This will make the resident feel as if they're truly being taken care of.
Most people won't initiate complaints, so by opening the door for residents to give their input, you'll learn how you can make your community a positive experience for everyone. This is also a good way to generate positive reviews.
Have new residents moving in? Check out this valuable resource:
Create The Ultimate Resident Move-In Experience In 5 Simple Steps
#30 Create a Proactive Review Plan
For reviews, invest in a third-party service that provides a dashboard or platform for management. Just make sure you have a plan in place for how you want to respond to reviews – good and bad. It's important to always respond.
#31 Always Ask for Reviews 
Don't be shy when it comes to asking people to give your community a review – obviously if they seem satisfied. For example, when a resident is handed his or her keys at move in, you could ask, "Why did you choose to lease here?" Type up his or her response and add their testimonial to your website (make sure they know first what you are using it for).
Or, you could ask current residents who are renewing their lease what they like about living in your community.
#32 Get More Reviews with this Email Script
What I like most about this email is, it clearly tells the resident what they should do. Also, it asks for the review at the proper time – right after the resident renewed his or her lease.
Click here for the text version of the above email so you can easily copy/paste.
#33 Recycle Your Reviews
I love creative apartment marketing ideas that are easy to execute on. Why just use a review once? Take a screen grab of it and post everywhere. It will only help build the case that your community is a great place to live.
#34 Resident Sign Strategy for Boosting Reputation
This is an easy strategy, especially if you prepare your signs in advance. Create a few fun signs and ask residents to take photos with them around your community, so you can post on your website, social media, and anywhere else you see fit. Your residents can post the photos too and tag your community for even more exposure.
Think about putting a goal in place of how many resident photos you'll get monthly.
#35 Create a Community Hashtag
Create a fun hashtag for your apartment community. This could be something like #FunAtCommunityName or #CommunityNameLife. This is a great opportunity to get residents to engage with your apartment brand and to gain additional exposure. You could also repost their images on your account for some user-generated content.
You could even hold some kind of contest, where residents post photos of themselves around your community, use your hashtag, and you select the best photo every week for a gift.
#36 Get Your Hands on Some Content Marketing
Create a blog and become a reliable source of information. You could post relevant, interesting content that people search for and enjoy reading.
This is far from salesy.
It's basically showing readers that you are the subject matter experts, and this drives people to your site. Topics could be apartment-living related, like how to entertain in smaller spaces, how to be a good roommate, or the top 10 events happening in your area this month.
#37 Don't Be Camera Shy – Try Some Video Content
Getting in front of the camera is tough for a lot of people, but video is a great way to get people's attention. Start producing videos and posting them on a YouTube channel, your website, blog, and social media channels.
Videos could be simply you talking about an interesting topic and offering some tips, or could show behind the scenes at your leasing office, a home tour, community tour, or day-in-the-life content.
Here's a quick video creation formula I've used over the years that can easily be applied to apartment marketing.
It's called the 10×10 Formula and when executed on will give you 20 short videos for your apartment community.
Here's how it's done:
Step 1 – Write down your top 10 most commonly asked questions with answers you get from prospects/residents.
Step 2 – Write down your top 10 should ask questions with answers. These are the questions your prospects/residents should be asking but aren't.
Step 3 – Film yourself with your smartphone asking and answering the question. The goal is to have one question and answer per video.
For example:
Hi, it's Josh from Estancia Apartments. One question we always get asked is "Are we a pet-friendly community?" Yes! Estancia Apartments has an outside pet park complete with a dog wash station.  We welcome dogs and cats up to 75 pounds and have a 2 pet max limit. For more information or if you would like to check out one of our apartments give us a call at 855-360-9327.
Step 4 – You should now have up to 20 videos you can upload to a Youtube channel as well as your own website.
Step 5 – When uploading to Youtube give your video the proper title and description. I like including the local area in my title.
For example:
Title: Pet Policy for Estancia Apartments in La Jolla
Description: Just paste your question and answer used in the video here. Also include the property address, phone and website.
Presentation of information – These videos are meant to be somewhat educational with the idea of answering commonly asked questions about your apartments. Don't overcomplicate it.
#38 Try a Referral Program 
Word of mouth is still one of the best marketing strategies out there. Encourage your residents to refer friends and family to your community by offering a referral incentive, like $100 off a month's rent.
#39 Stay on Top of Apartment Marketing Trends 
As with all trends, pay close attention to what the giants are doing (Amazon, Google, Facebook, Apple). Study their strategies and find tactics worth implementing in your own communities.
Now It's Your Turn…
Take one of the apartment marketing strategies from above and implement it. Personally, I think you'll get the biggest results from #8 Claiming & Optimizing Your Google My Business Listing. It's free, easy to do and you'll more than likely see increased traffic immediately.
Like This Post?
Please take a second and share on your favorite social media.
Written by Josh Grillo
Josh Grillo is a #1 Best Selling Author, Speaker and Co-Founder of Resident360.
Leave a Reply